Is that a cryptic title or what? Sorry about that. You see, this morning I put my 3 Meryton Mystery books together in a box set (with 3 books for the price of 2, it's a steal!) and while bunching my beloved stories up, I got sad at the thought of never seeing Mr. Tanner or Lord Harvisham again. And what about the young soon-to-be barrister who caught Georgiana's eye? *sigh*
While I can't say I'll be able to add to their stories soon, I can admit that I've already outlined the next 2 books. (I know, sad right? I can hear "Let it Go" playing in my head as I'm typing this.) They'll have to wait their turn, but just maybe there'll be more to come…
Until then, I hope you enjoy the first three! I had no idea Meryton had so many secrets until I started writing them. What a place!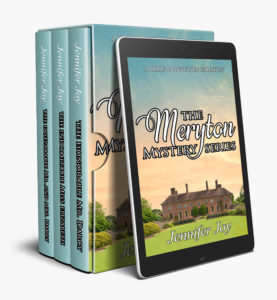 Are you ready for the blurb? It's long — like I-wish-this-counts-toward-my-daily-word-count long — but I think it represents what's inside nicely.
Three murders. One eternal romance.
The Meryton Mystery romance series is set in England's captivating Regency era — when a gentleman's manners were valued as highly as a lady's reputation, and a happy marriage was the ultimate prize (although a fortune was never frowned upon).
If you like falling in love with Mr. Darcy and Miss Elizabeth as they fall for each other, then you'll love this set of sweet romance-mystery variations inspired by Jane Austen's timeless classic, Pride and Prejudice.
Book 1: The Honorable Mr. Darcy
When his freedom means the loss of hers … can anyone win?
Fitzwilliam Darcy has avoided the entrapments of dozens of desperate maidens seeking a wealthy husband … until the Netherfield Ball. He could lose himself in her fine eyes, but there's just one problem: She doesn't want him.
Elizabeth Bennet seeks a brief respite from the crowded ballroom only to find herself wrapped in the arms of the one man she despises — Mr. Darcy.
When Darcy's enemy is shot to death, he must choose between Elizabeth's freedom and his own honor. To complicate matters further, Elizabeth is not one to stand idly by when her future is on the line. With a killer on the loose, can she help Darcy reveal the truth before he's accused of a crime she knows he didn't commit? Or will she become the next victim?
Book 2: The Indomitable Miss Elizabeth
Lady Catherine comes to Meryton … and Mrs. Bennet gives her a piece of her mind.
Fitzwilliam Darcy is more determined than ever to win Elizabeth's love — no matter what obstacles their families place between them.
Elizabeth Bennet is growing to love Darcy, but a life-threatening secret threatens to dash her hopes for their happily-ever-after.
When a matron is found murdered in the midst of a militia parade, Darcy soon discovers the strength of the victim's enemies … and their closeness to Elizabeth. Can Darcy protect her when she is determined to bring the murderer to justice?
With a cold-blooded killer on the loose and their hearts on the line, can Darcy and Elizabeth work together to solve another mystery while fighting for each other?
Book 3: The Inseparable Mr. and Mrs. Darcy
What does a secret correspondence, an elopement, and a plot against Parliament have in common?
Join our dear couple as they find out!
Fitzwilliam Darcy and Elizabeth Bennet have had their fill of crime-solving. Now engaged to be married, their greatest wish is to leave Meryton with its penchant for mysteries for the serenity of Pemberley — if only Mr. Bennet would give his consent!
When the investigations begin anew, Darcy and Elizabeth's search for answers unfolds more trouble as Mr. Bennet becomes the target of an unknown enemy … or are his frequent "accidents" merely the desperate act of a lonely father unwilling to part with his favorite daughter?
Darcy and Elizabeth team up yet again to prove once and for all prove that family trumps adversity and love conquers all — if they can make it to the altar…
Read The Meryton Mystery Series to satisfy your craving for fast-paced mysteries interwoven with a heartwarming, wholesome romance today! Click here to get your copy!