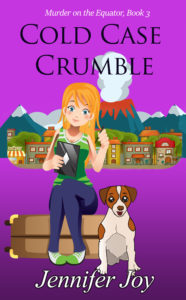 Live on Amazon today, the third novel in the Murder on the Equator series!
Reluctant sleuth, Jessica James, will go to the top to get to the bottom of a 30-year-old cold case as her dreams of a peaceful holiday in Ecuador crumbles.
What started out as a simple remodel project leads to a full-fledged investigation when a skeleton is discovered in the floor of Tia Rosa's much-anticipated doughnut shop.
With her friend's livelihood on the line, Jessica cooks up a plan to save Tia Rosa's building. Given four days to discover the truth, Jessica is certain she has a recipe for success … until it leads to disaster.
Digging up the past unearths more secrets, and Jessica's troubles go from bad to worse when her dog disappears, her elderly "helpers" volunteer her baking services to feed hundreds, and the murderer claims another victim. Will Jessica taste sweet victory and solve the cold case in time? Or will her investigation turn sour?
Let the adventure begin here today!