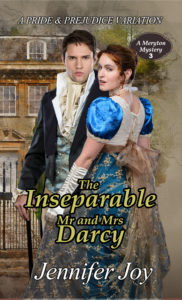 LIVE on Amazon today, the third novel in the A Meryton Mystery series!
When your family betrays you, whom do you trust?.
Fitzwilliam Darcy and Elizabeth Bennet have had their fill of crime-solving. Now engaged to be married, their greatest wish is to leave Meryton with its penchant for mysteries for the serenity of Pemberley. If only Mr. Bennet would give his consent.
When a secret correspondence is discovered, revealing a possible elopement, a plot against Parliament, and exposing their families' reputations to shame, the investigations begin anew. The couple's search for answers unfolds more trouble as Mr. Bennet becomes the target of their unknown enemy … or is it merely the desperate act of a lonely father unwilling to part with his favorite daughter?
Darcy and Elizabeth team up to once and for all prove that family trumps adversity and love conquers all — if they can make it to the altar…
Purchase your copy here today!