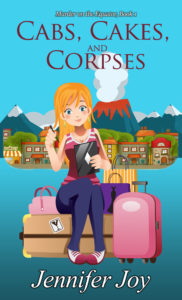 She expected balmy breezes, swaying hammocks, and majestic waterfalls. Not a murder.
Jessica James is a twenty-three-year-old, work-at-home computer whiz content in her comfort zone … until her family conspires to send her to the jungles of Ecuador for a once-in-a-lifetime experience.
When her taxi driver takes off with her bag in the trunk, her grand adventure begins. When that same taxi driver is found murdered minutes later, Jessica is forced into one catastrophe after another as she seeks to find the truth … and get her stuff back. With the help of the two most mischievous sisters old enough to know better, Jessica will either catch a murderer or end up in jail.
But friendship and discovery come at a cost. Can Jessica's newfound bravery help her survive her South American experience as she gets closer to the murderer? Or will this grand adventure be her last?
*Recipes included
Cabs, Cakes, and Corpses is available for purchase today!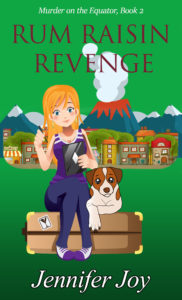 Plagued by one catastrophe after another, Jessica James (introvert extraordinaire) takes comfort in the fact that it can't get any worse. Until it does.
When Jessica discovers a dead body in the freezer of the local ice cream parlor, she's soon involved in another mystery. But Jessica has bigger problems when an argument between two elderly sisters involves her in a town-wide fundraiser. Neck deep in doughnuts and unanswered questions, Jessica has to find another murderer while avoiding a surly detective and her worst nightmare — the news camera crew.
Can Jessica stay out of trouble and off the camera while raising money for a good cause? Or will she become the next headliner in the national news?
*Recipes included
Click HERE to buy your copy on Amazon!