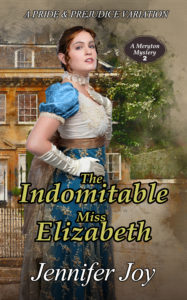 Two determined women. One murder. No eyewitnesses.
Lady Catherine has come to Meryton.
When a devastating secret is revealed, putting Elizabeth Bennet's future happiness and the loyalty of the man she loves in the balance, her hopes for a Happily-Ever-After are dashed to pieces. Threats are made and family obligations are enforced, leading to an event no one could foresee. Another murder in Meryton.
Fitzwilliam Darcy is more determined than ever to win Elizabeth's love — no matter what obstacles their families place between them. When a matron is found murdered in the midst of a militia parade, he soon discovers the strength of the woman's enemies … and their closeness to Elizabeth. Can Darcy protect her when she is determined to bring the murderer to justice?
With a killer on the loose and their hearts on the line, can Darcy and Elizabeth work together to solve another mystery while fighting for each other? Or will the pressure break them apart forever?
Buy it on Amazon today!