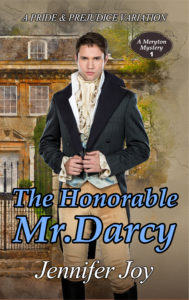 Everyone has a secret. Who will kill to keep theirs?
Lieutenant George Wickham is dead.
The shot rings out in Wickham's tent as the good citizens of Meryton dance the night away at Mr. Bingley's Netherfield ball. The only person who can confirm Fitzwilliam Darcy's alibi faces the loss of her reputation and her freedom if she comes forward.
Convinced that her sole motive is the pursuit of justice— and not her growing attraction to Mr. Darcy— Elizabeth Bennet begins an investigation to clear his name and evade an unwanted marriage.
If Darcy didn't shoot Wickham in cold blood, who did? Which of Longbourn's neighbors is not who they seem?
With a killer on the loose, can Elizabeth avoid being the next victim as she comes closer to revealing the truth?
Bestselling author, Jennifer Joy, brings you The Honorable Mr. Darcy, the first standalone book in the A Meryton Mystery romance series. If you like falling in love with characters as they fall for each other while uncovering shocking secrets, then you'll love this mystery romance.
Read The Honorable Mr. Darcy today to satisfy your craving for a fast-paced mystery interwoven with a heartwarming, sweet romance!