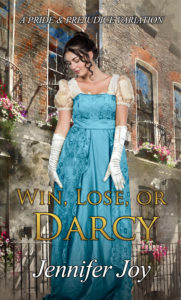 Fortunes may be won or lost, but there is only one Mr. Darcy!
Mrs. Bennet wins the lottery! When the battle ensues over how to invest their new wealth, Elizabeth Bennet sees an opportunity to reunite her heartbroken sister with Mr. Bingley in London. Once in town, Elizabeth befriends Miss Sophia Kingsley, a highly influential young lady in the beau monde, and soon finds herself in the midst of a society intolerant of her family's improprieties.
Fitzwilliam Darcy is drawn to Elizabeth Bennet's charming wit— despite her appalling family. But with the Season fast approaching, the competition to win Elizabeth's affection intensifies as Mr. Gerard Gordon makes his intentions clear.
Will Mrs. Bennet´s gambling and Mr. Bennet's indolence ruin Elizabeth´s chances of love and happiness before the London Season begins? Will Mr. Darcy overcome his pride and the manipulations of his friends in order to marry the woman of his choice?
Win, lose, or draw, our dear couple finds their happily ever after… we hope.