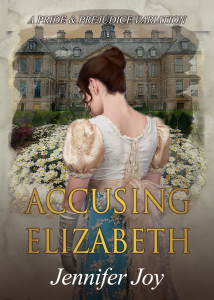 What must a lady do to receive a decent proposal?
After refusing an atrocious proposal from a gentleman she dislikes, Elizabeth Bennet wishes she had never come to Hunsford. Foolish decisions and silent tongues conspire against Elizabeth, bringing accusations against her and those whom she holds dear when a valuable pair of diamond earrings go missing from Rosings. Elizabeth finds a surprising ally in Mr. Darcy— the man she had so recently refused. Can Elizabeth see past her prejudice to understand her own heart? Or will she ruin her prospects to protect her friends?
Fitzwilliam Darcy's dream of a happy union is dashed to pieces when Elizabeth Bennet irrevocably refuses his offer. Sincere in his affections, he determines to win her heart. If only he can defend her when his aunt, Lady Catherine de Bourgh, suspects Elizabeth and Miss Maria Lucas of theft. Can Darcy overcome the obstacles his relatives place before him on the path to love? Will Elizabeth give him a second chance?