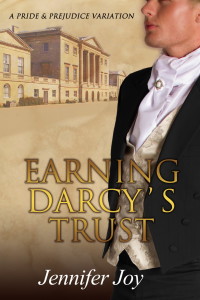 While the colonel is out on a secret mission, Darcy and Lizzy have fallen in love again in a new standalone novel, Earning Darcy's Trust.
(Colonel Fitzwilliam has promised that he will tell all in his book, the 3rd in The Cousins Series— which will come out Winter, 2015.)
Tragedy strikes Pemberley and Fitzwilliam Darcy must assume the role of guardian to his maiden sister, Georgiana.When Darcy's trust is betrayed by a childhood friend, Darcy decides to take affairs into his own hands— only to find himself blackmailed by his worst enemy and manipulated by a woman who would ruin his innocent sister's reputation to suit her own wants.
Miss Elizabeth Bennet longs for excitement and a good match for her dear sister, Jane.Hope springs in Elizabeth's heart when Mr. Bingley lets Netherfield Park and sets his sights on Jane. Victim of a poor decision, Elizabeth is forced to spend time with the disagreeable Mr. Darcy. She learns that there is more to the gentleman than meets the eye and she has the key to solve his problems… if only he would trust her.
This sweet Regency romance based on Jane Austen's Pride & Prejudice gives our beloved characters, Darcy and Elizabeth, new obstacles to overcome before they achieve their happy ending.