I am so excited because tomorrow I will hit Publish for the very first time for my debut novel, Darcy's Ultimatum. It's a Pride & Prejudice variation and — I hope — the first of many stories to come.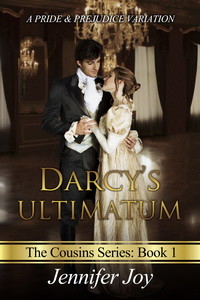 A sweet romance inspired by Jane Austen's Pride & Prejudice.
When Fitzwilliam Darcy's arranged life falls to pieces, his father, Mr. George Darcy, gives him an ultimatum: Marry by the end of the London Season or risk disinheritance. Can Darcy cast aside society's frigid attitude toward marriage and find true love? Or will his desire to honor his deceased mother's memory hold him back?
Elizabeth Bennet faces the greatest challenge of her life: Find a husband by the end of the London Season or be forced to marry the heir apparent of her family home, Mr. Collins. A romantic at heart, will Elizabeth find a gentlemen to meet her high expectations?
After a disastrous meeting, Darcy and Elizabeth determine not to like each other. But, the London Season has only begun…